Students from One Sixth Form College selected by University of the Arts London to exhibit their work at Origins Creatives in London this month.
Back

Jamie Ollason and Imogen Hare have been selected to exhibit their work at Origins Creatives, taking place at the Truman Brewery in July.
Jamie's submission, titled 'The Third Kingdom', was inspired by a quote by Marlin Sheldrake, 2019: 'Fungi are the architects of nature' and explores abstract architectural forms that represent mycelial networks which are fundamental to life on earth. Delicate nylon with tension represents the tension between life and death - fungi are present both at the start and end of life due to their role in decomposition. It is built on and around the body to remind us of our reliance on this external force.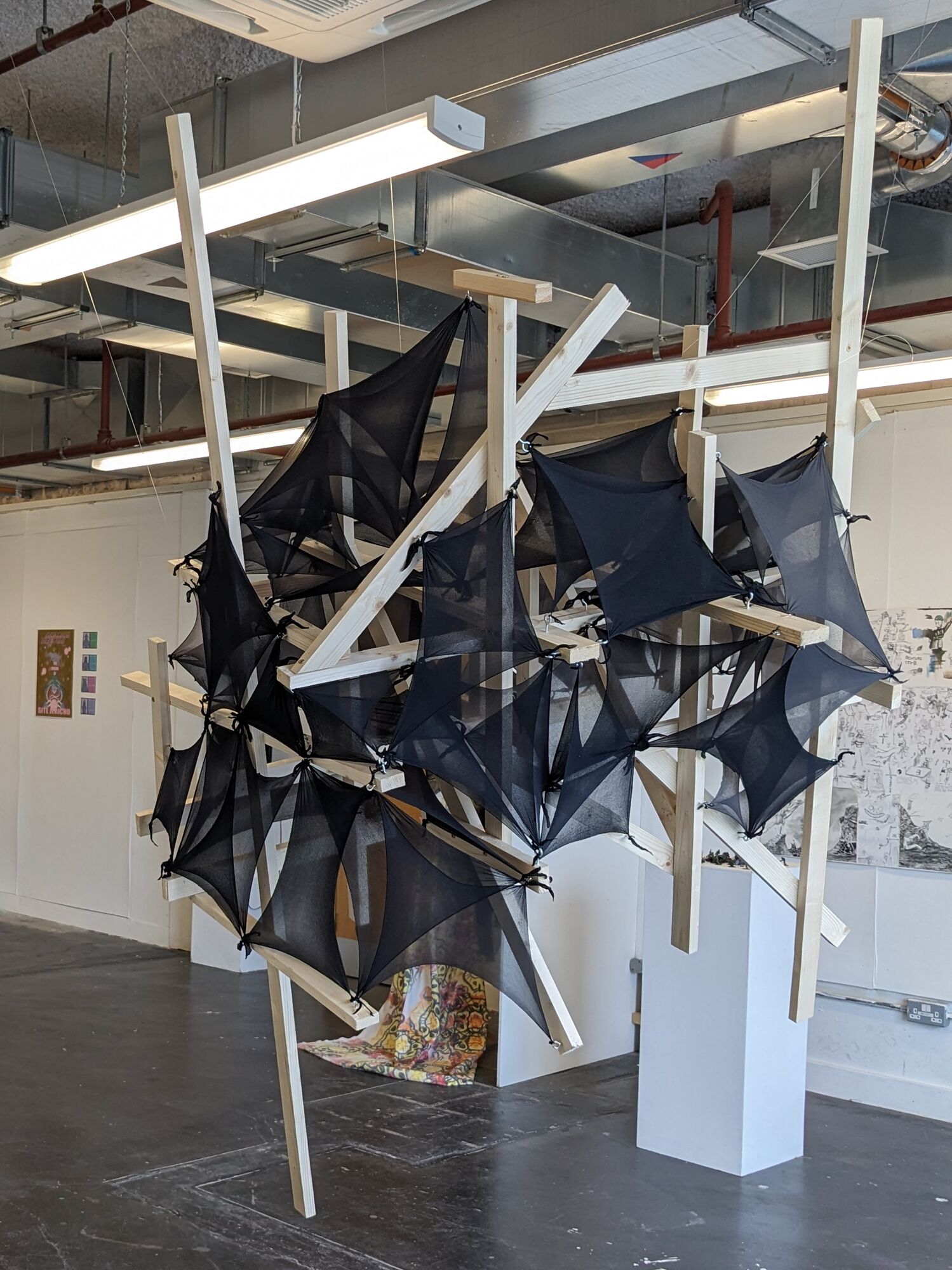 Jamie's submission
Imogen's submission, titled 'Our Triple Planetary Crisis', utilises illustration to create a piece that would target an important issue relevant in today's society. Attacking the problem face on by testing boundaries, dealing with controversial topics and exploring our values as humans, with the hopes of making a difference using education. Exploring different styles and clever visualisation techniques, playing with meanings and metaphors to create depth, seeing which factors make an overall message more powerful and improve its likelihood of being listened to. She considers her outcome to be a quick video that summarises and introduces a serious topic, that caters to the different perspectives of her large audience. Imogen desired a topic that could be related to worldwide, an issue that directly impacted all kinds of people, which is how she ended up with the subject, our Planet Crisis. Global warming has become very familiar in today's media, meaning this decline in our planet's health has lost its shock factor, and ultimately, our attention. We are blissfully unaware of our harmful consumption and lifestyles, it is Imogen's goal to shed light on the causes, and most importantly, the changes. Observing how she, and the people around her, live through their waste and evaluating realistic adaptations we can make. Imogen's goal is to inspire and encourage, so our planet can flourish for our children.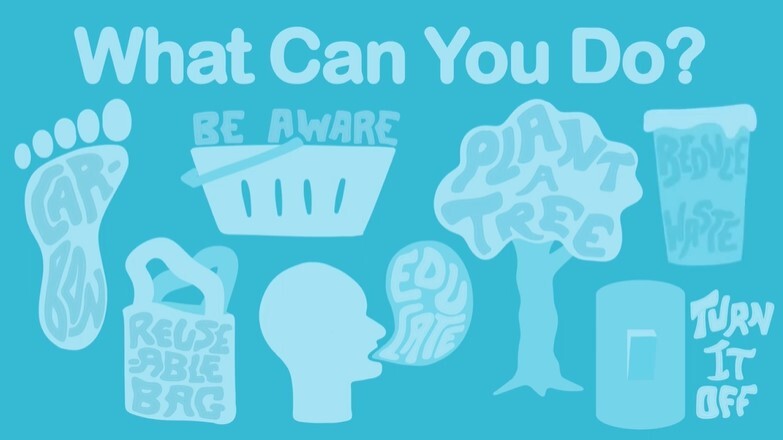 Imogen's submission
These works caught the attention of UAL Awarding Body's curator amongst almost 400 submissions.
Both student's study on the Foundation Diploma in Art and Design course at One Sixth Form College in Ipswich, Suffolk. 'The Third Kingdom' and 'Our Triple Planetary Crisis' works are final major project solutions that consolidate students' creative practice at the end of the course. The one-year pivotal qualification provides a transition from general education to specialist art and design education and enables students to make an informed decision when applying to Higher Education or seeking employment within a related industry. This course is characterised by academic rigour and a student-centred learning culture.
Jamie who has successfully gained a place to study BA (Hons) Fashion Design: Menswear at University of the Arts London: Central Saint Martin's next year, says of his work: "I feel that my outcome could be categorised into fashion or sculpture interchangeably depending on how it is presented - I have presented it as both in my project as I quite like the ambiguity of it... I often use the wearer of my garments to further convey my ideas, a common theme in my work thus far is that the model is holding up the sculptural element of the outcome, a nod to the uncomfortable almost overwhelming nature of my work on the body…I presented my final outcome as a hanging, breaking conventional norms for the presentation of garments. In fact, it is not obvious at all that it is a garment, I quite like this as this outcome did really push the boundaries of what could be considered a garment and what should be considered a sculpture".
Discussing the theme of her work, Imogen said: "My in-depth research meant I approached my everyday life with a slightly different perspective. For example, I am much more conscious of my waste and am actively trying to adapt my lifestyle for my planet. Going into my project with such an open mind really allowed me to experiment with tone and what topics I think deserve some light…I aimed to create a piece that educated people and delivered important facts in an easier way to digest, both of which I believe I succeeded in." Imogen is starting out as a freelance Graphic Designer next year alongside gaining work experience in the industry.
Origins Creatives is organised by UAL Awarding Body and provides art lovers, critics and industry professionals from the creative sector the chance to discover original creative talent from across the UK and celebrate students' creativity and hard work.
The free exhibition showcases work from some of the UK's most talented students in FE institutions studying across the UAL subject areas of Art and Design, Fashion Business and Retail, Creative Media, Music Performance and Production and Performing Arts.
This year, Origins Creatives will be an in-person exhibition at The Truman Brewery in Shoreditch. The exhibition will open with an invite-only private view on 20 July at 6pm. It will be open to the public from the 21 – 23 July, alongside an online showcase.
The exhibition will showcase selected work created by students from Levels 1, 2, 3 and 4 across all subject areas. You can expect to see a diverse range of painting, photography, drawing, sculpture, fashion and more.
Exhibition opening times for the public:
Friday 21 July, 10.30 – 5pm
Saturday 22 July, 10.30am – 5pm
Sunday 23 July, 11am – 3pm
Address:
G4 + G5,
The Truman Brewery,
Ely's Yard,
Shoreditch,
E1 6QP
If you are interested in attending this event, please book >> https://www.eventbrite.co.uk/e/origins-creatives-2023-tickets-600311787717