From One to the West End and back again
Back

Former Suffolk student returns to sixth form to inspire current learners ahead of the opening night of SIX
A star of the West End came back to her former place of study to help inspire current students ahead of a two night run of the musical SIX Teen Edition that starts on Thursday 17th and Friday 18th November.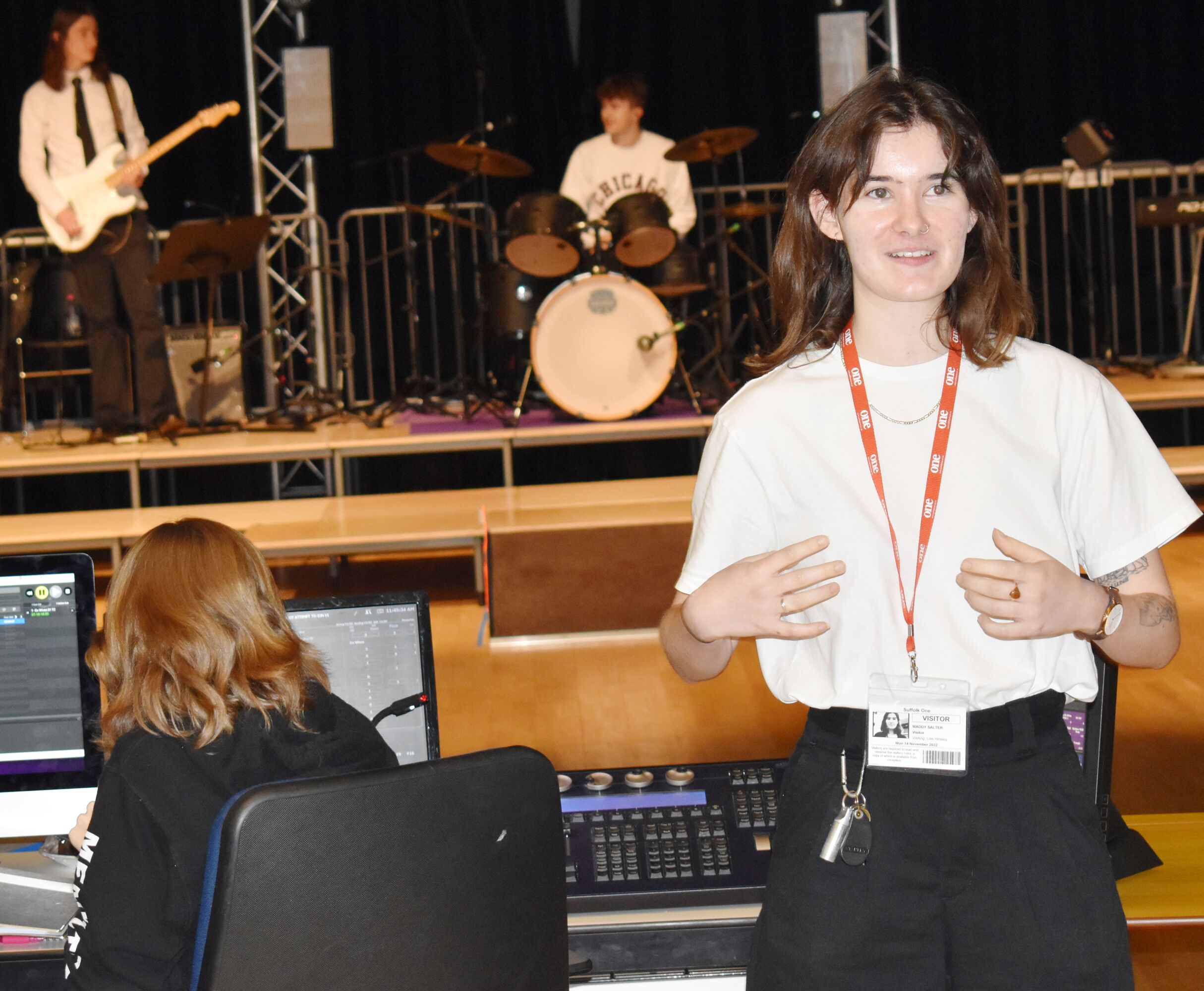 Maddy comes back to One
20 year old Maddy Salter (originally from Saxmundham now living in London) visited One Sixth Form College (ONE) today.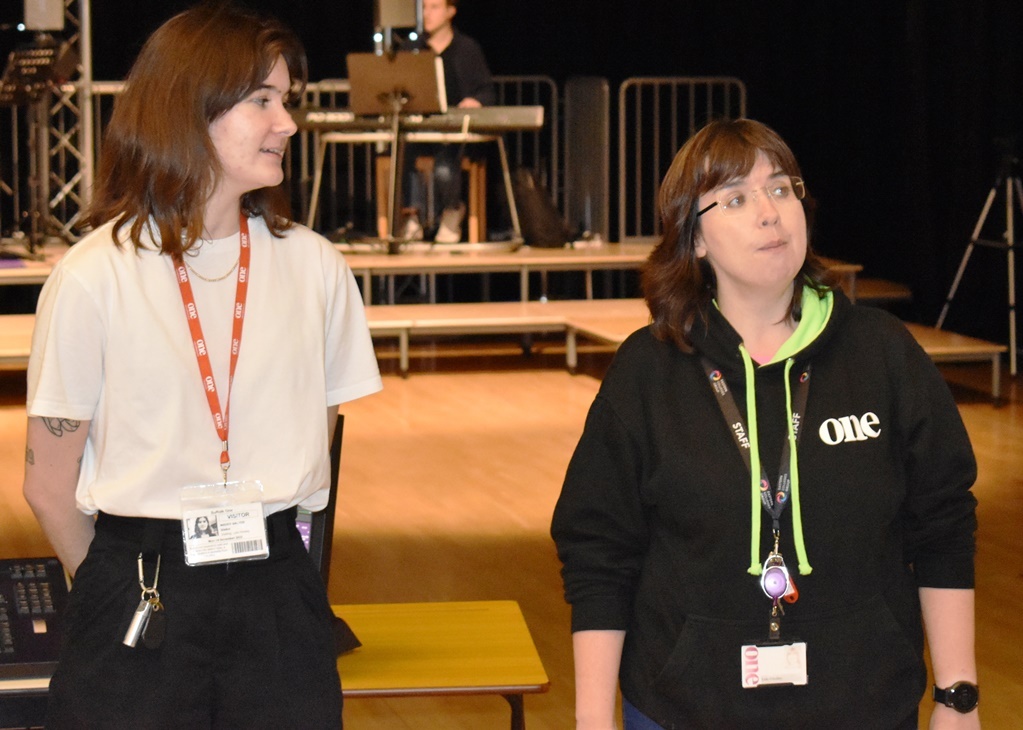 Lois Hinsley introduces Maddy to students
The former A Level student was introduced to performing arts and music students who were preparing for their first live musical production since lockdown.
Maddy is currently on the second year of a jazz guitar BMus degree at the Guildhall School of Music and Drama.
Earlier this year, Maddy was chosen to perform as a guitarist in the West End version of SIX, a musical based on the wives of Henry VIII.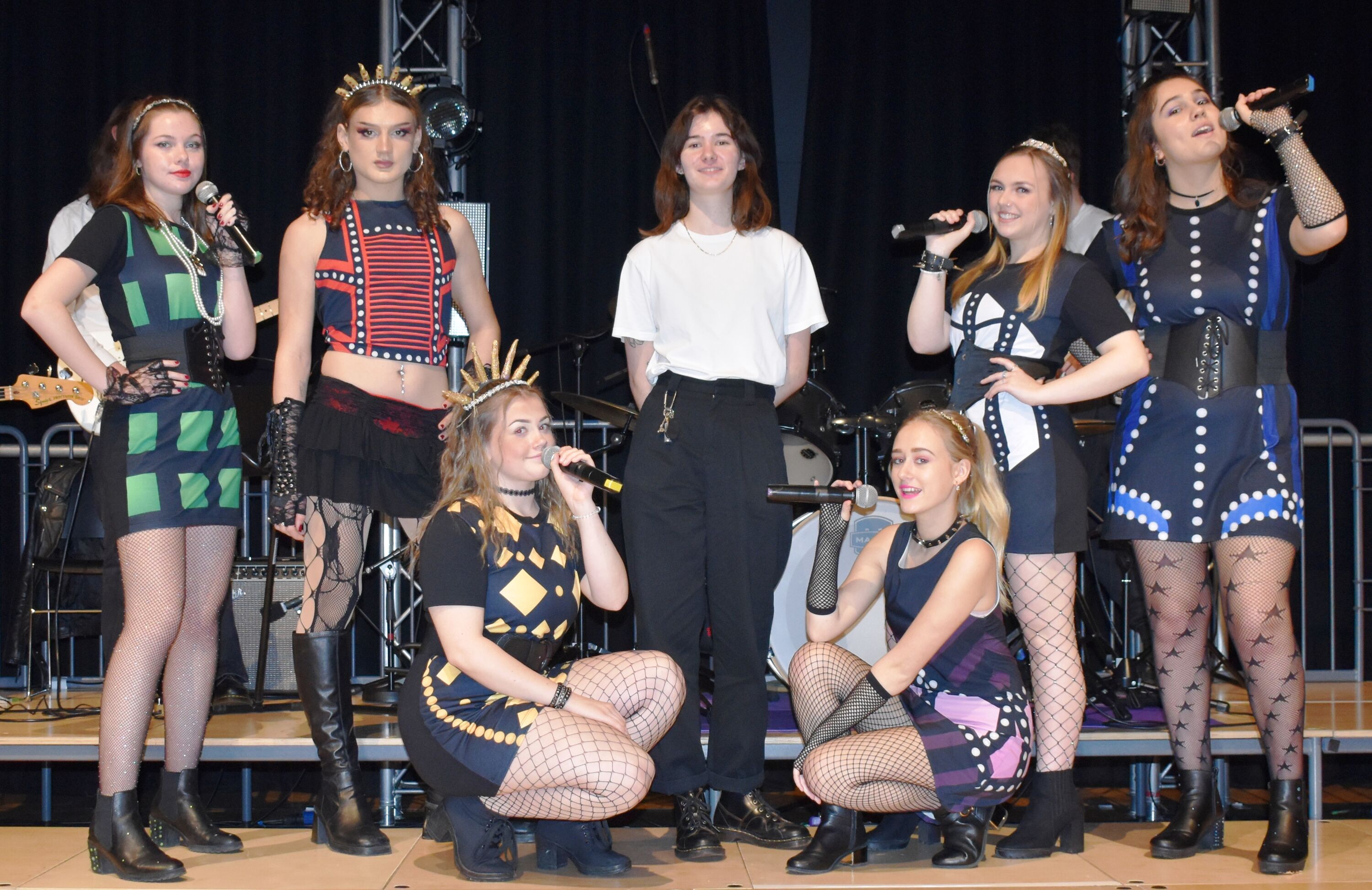 Maddy (centre) with the cast of SIX from One
Maddy was invited back to One to give cast members a boost before opening night of a production that will take place at the sixth form based on Scrivener Drive on Thursday 17th and 18th November 2022.
Maddy said: "I left ONE in 2020, took a gap year then started at the Guildhall in 2021. Whilst on my degree, the current guitarist performing on SIX in London followed me on Instagram, saw what I can do and messaged me and asked if I fancy deputising on the show if she was unable to do it – of course I said yes.
"I had two weeks to memorise the whole thing and then performed at the Vaudeville Theatre on The Strand earlier this year."
(Other famous performers who have trod the boards like Maddy at the Vaudeville include Hollywood star Christian Slater (who was in the film True Romance), Dawn French, Penelope Keith and Jeff Goldblum).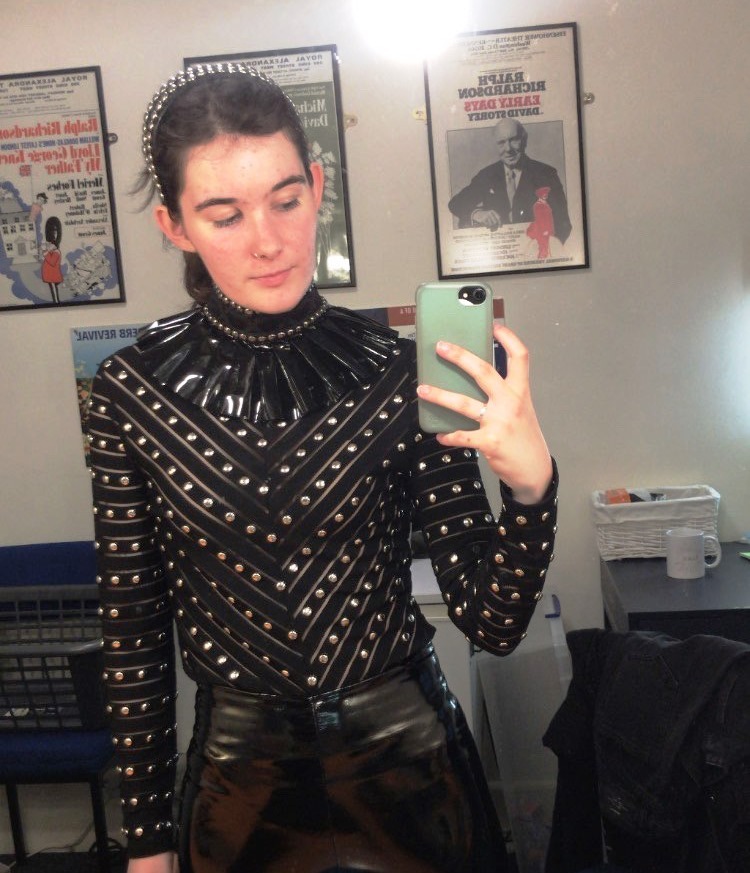 Maddy Salter taken backstage in the West End
Maddy continued: "I was nervous (about my first night but it was such a great experience. I've now done it around 30 times and there is still more to come. Before SIX, the last theatre show I did was Sister Act at ONE.
"After this experience, I'm going to carry on with what I'm doing and I'd love to get in to pop session stuff in the future.
"I'd also love to go on tour with an artist I love. I've just finished recording guitar and backing vocals for Dodie's Hot Mess EP - Live from the Attix. (It's currently on YouTube, https://youtu.be/GDfr8yQ34Bg).
"And coming from Suffolk, so I'd love to play for artists as big as Ed Sheeran one day."
"On coming back to One, Maddy said: "I was asked to come and give some motivation (to the cast). I learnt so much (at One) that I use now and I had a great time here. Lots of my friends are from ONE. We all keep in touch."
Head of Music at One is Lois Hinsley. Lois said: "It's wonderful to see Maddy come back and talk to our students about her experiences. She really inspired our current students, and made them feel that it could be them who comes back to see us in three years' time, having starred in the West End themselves."
Current cast member Rudi Vogel, 19 from Woodbridge "It's lovely to see that our dreams are realistic and that being on the West End is achievable."
In terms of the One version of SIX, head of performing arts at One, Tanya Verow said: "The show is 75 minutes long, it's fun, exciting, modern and each song has a different vibe to it. So come along and have a party with us. We think it will be the best show that ONE has ever produced."