Students across the Eastern Colleges Group celebrate Results Day 2022
Back

2,750 students across Group receive A-level or technical/vocational results
The Group's further education colleges include Abbeygate Sixth Form, One Sixth Form and West Suffolk College
University Studies in Bury St Edmunds ready to provide degree routes
Students from campuses across the Eastern Colleges Group have been opening their results today, marking a milestone in their education.
At Abbeygate Sixth Form College in Bury St Edmunds, 330 students who between them sat over 1000 exams received their A-level results – which saw a 97% overall pass rate, with 54% at A* to B and 97% at A* to E.
1,780 students from West Suffolk College in Bury St Edmunds received results from vocational and applied diploma courses – including T-levels and BTEC courses.*
At One Sixth Form College in Ipswich, over 640 students received their A-level results – which saw a 96% overall pass rate, with 44% at A* to B and 96% at A* to E. 100% of 310 BTEC students passed their exams. Highlights for strong A-level pass rates include English Literature and Further Maths, with 86% of 69 students in these subjects gaining a grade of A* to C. Over half of all students (53%) who studied on a vocational diploma programme gained a distinction profile (D*D*D* to DDD).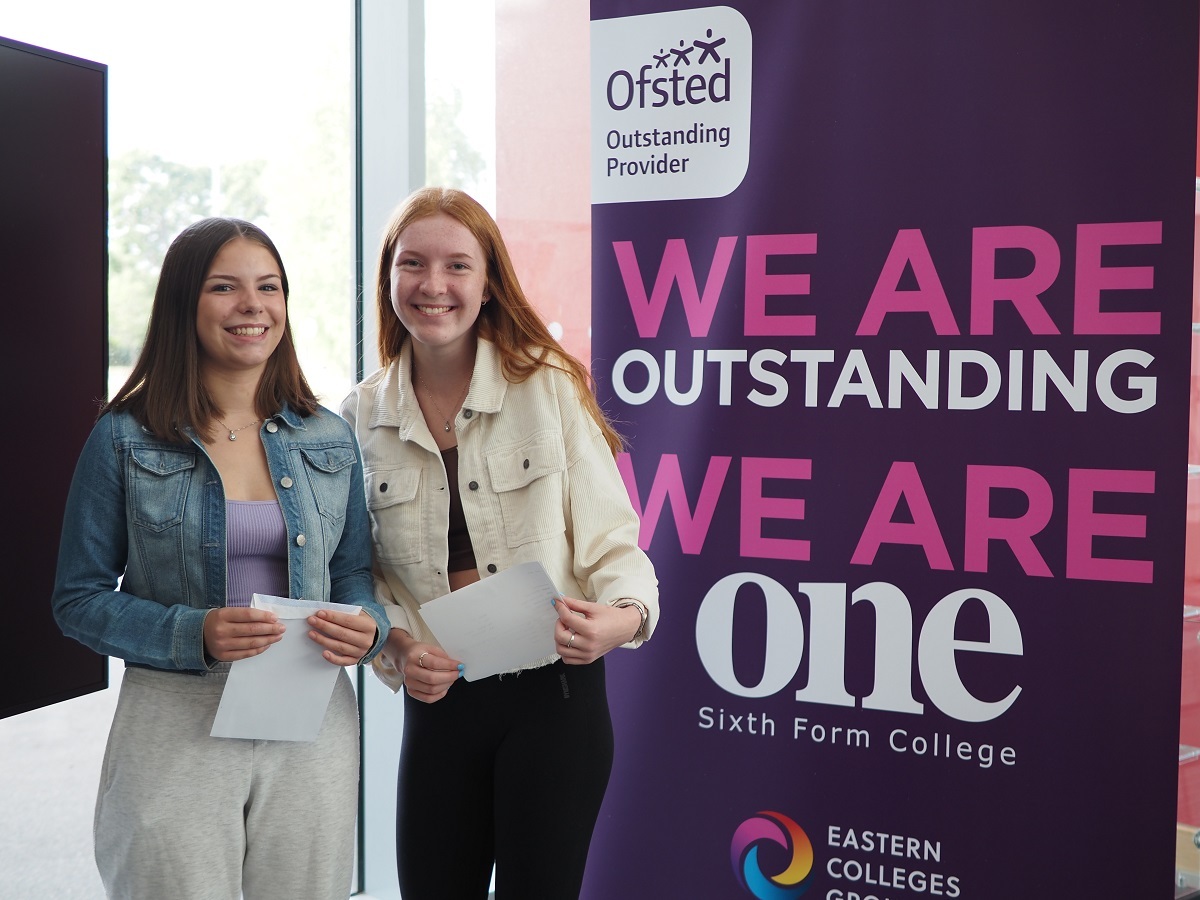 Abbie (right) collecting her results, and bringing along fellow student and friend Ellie to celebrate.
Dr Nikos Savvas, Chief Executive of Eastern Colleges Group, said: "Results day is the culmination of months of hard work and it marks the start of the next chapter for so many people. We are incredibly proud of our students and it's particularly rewarding for us to see how we are enabling people to meet their goals, aspirations and contribute to society in so many different ways. We also provide routes to take a degree or higher national qualification through our University Studies provision in Bury St Edmunds. By working with other top universities in the region, we are able to offer highly rated, accredited degree courses from a campus in Bury – giving so many the option to stay close to home and take their next step with us."
Jake Robson, the Head of Centre at Suffolk One Sixth Form, said: "This results day follows our new Ofsted 'Outstanding' rating, so it's great to see these achievements come to life with our students gaining such brilliant results. It's an emotional day for the staff too, seeing our students reach the end of their journey with us but we are of course here to support everyone with the next step."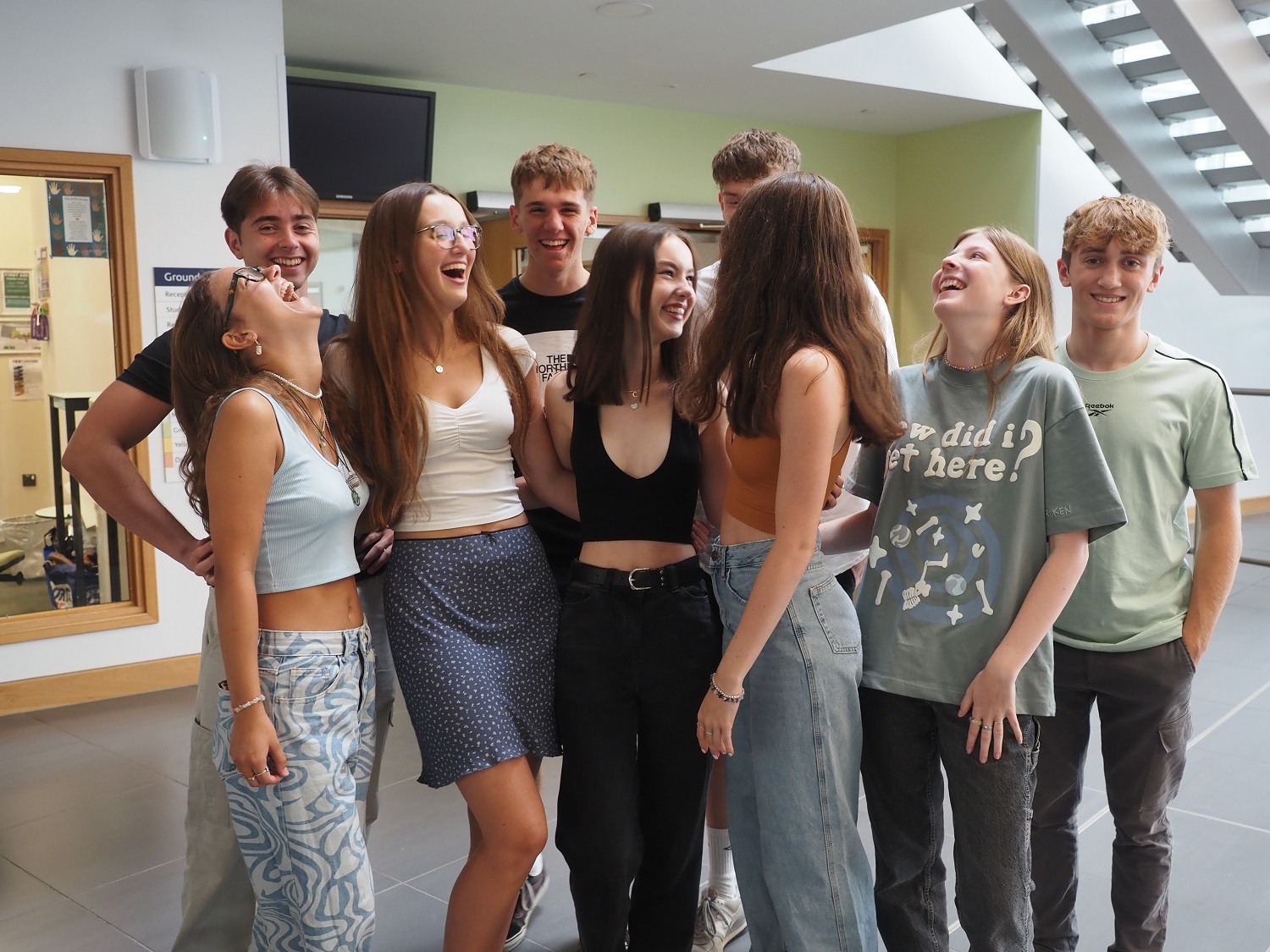 Students at One Sixth Form College celebrating their results.
David Gartland, Principal of Abbeygate Sixth Form College, said: "What an incredible set of results from a terrific year group. It's been a privilege to work alongside our students who have shown great resilience and determination to achieve such fantastic results. It's a very proud moment to see this cohort go on to their chosen destination, not only with a great set of results but with a wealth of life-skills and knowledge of the world, gained from a range of opportunities offered by the College. I'd like to congratulate our amazing team of experienced staff at Abbeygate for all of their hard work and diligence in helping the next generation achieve their goals."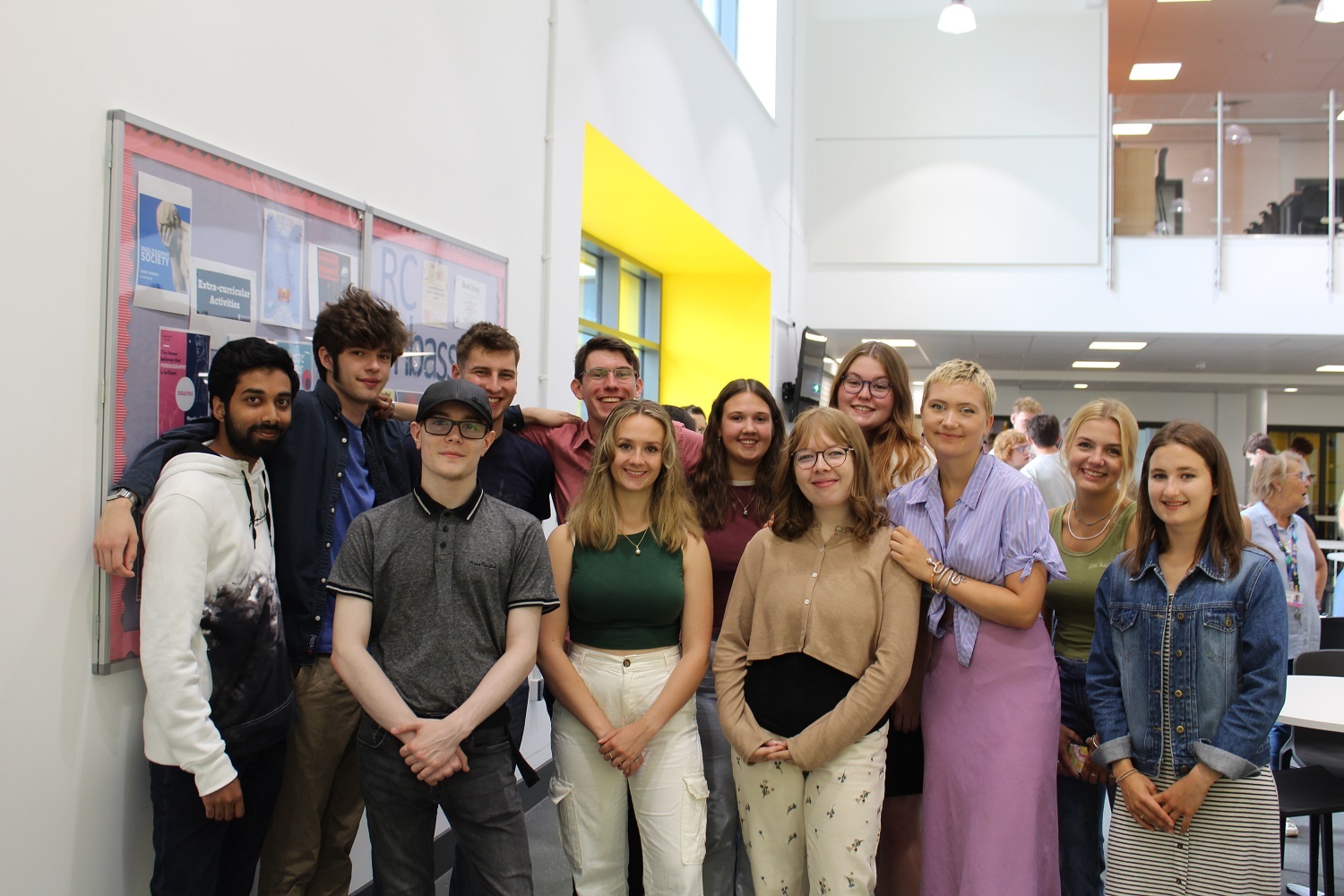 Abbeygate Sixth Form College students on Results Day 2022.
Colin Shaw, Principal of Sixth Form Provision at West Suffolk College, said: "It's really important to acknowledge the fantastic achievements of students receiving their vocational and technical results today – these qualifications are intensive and many require hundreds of hours of work experience – it's amazing what our young people achieve. It's an exciting and emotional day and I congratulate our students and staff on another brilliant round of achievement at West Suffolk College."
Molly Watkins, a West Suffolk College student aged 18 from Brandon, opened her results online this morning. She received the top BTEC marks of D*D*D* in an Extended Diploma in Health and Social Care. Molly said: "I'm just so excited and happy – this is better than I was expecting. I'm now going on to train in a BSc in Midwifery at Anglia Ruskin University in Cambridge. Developing the academic skills in researching was definitely the most challenging part of the course for me, but I feel so well equipped to study further. My advice for students in their final year would be to start the coursework as soon as you can – don't leave it until the last minute!"
Molly Watkins, a West Suffolk College student from Brandon, getting her results.
Some of the first students receiving their T-level results at West Suffolk College include those on the first year of the T-level in Education and Childcare. T-Levels are qualifications which follow GCSEs and Technical Awards and offer an alternative to A Levels and apprenticeships. Each qualification lasts two years, is equivalent to three A-Levels and combine classroom theory, practical learning and a minimum 45-day industry placement with an employer.
Nicola Thompson, Module leader for Early Childcare Studies at West Suffolk College, said: "T-levels are an exciting new qualification and it's been a privilege and honour to see so many students do so well in the classroom and on their dedicated work placements. What our students have achieved through a lot of hard work and gaining technical knowledge has been really wonderful."
The University Studies provision at West Suffolk College in Bury St Edmunds are now running dedicated support routes to help people navigate their way through the clearing process.